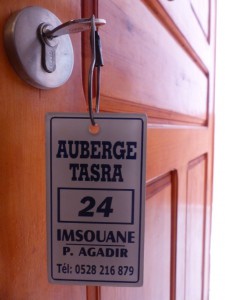 Auberge Tasra offers 22 double and 2 triple rooms. The cozy rooms are all individually designed and equipped.
7 rooms with private shower/bathroom with view to the courtyard, further rooms are located in the extension
Rooms in Dar Mariam (House Mariam)
6 rooms (double and triple rooms) with shared sun terrace and view of the ocean, communal shower
Groups of motorcyclists and bikers are welcome. Parking is available.
Please note: Rates – monetary transactions
You can access to ATMs in Agadir, Tamanar, Tamri and Essaouira. In Imsouane at Auberge Tasra there are options for money exchange, however unfortunately there is no bank or ATM.